Why choose your Tacori Engagement Ring with Padis Jewelry?
Padis Jewelry has been serving the San Francisco Bay area since 1974. We have thousands of Tacori rings ready for you to experience in our store. As we are a Tacori Premium Partner, you have access to 2-week turnarounds on your custom Tacori engagement ring! We have the absolute lowest prices on conflict-free diamonds.  We will beat any advertised price on ANY item we carry.
Request Your Personalized Showing of Tacori Diamond Engagement Rings
Some of our Popular Tacori Engagement Ring Pieces
Try on any of these popular Tacori pieces in person and customize yours to fit your style. Request your personalized showing today to find something to match your style.
Tacori Classic Crescent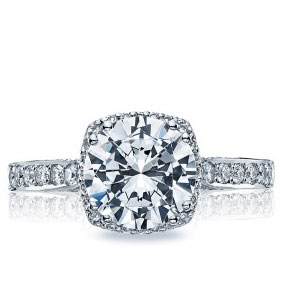 Tacori Dantella 2620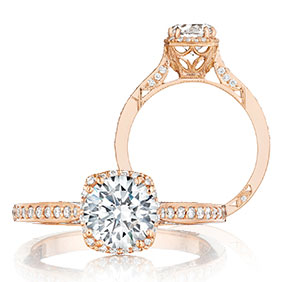 Tacori Dantella
Shown in rose gold with a .94 cttw round Forevermark diamond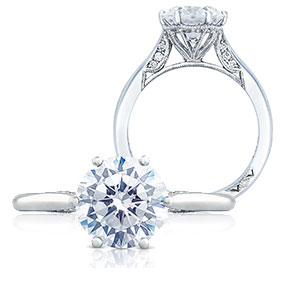 Simply Tacori
Platinum Engagement Ring with Forevermark 1.8 Cttw Round center stone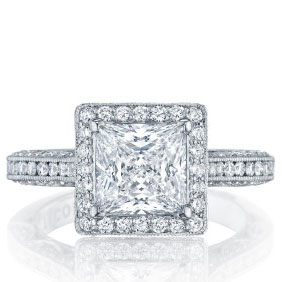 Tacori Dantella
The HT2550 shown with a 1.6 Cttw Princess Cut Forevermark Diamond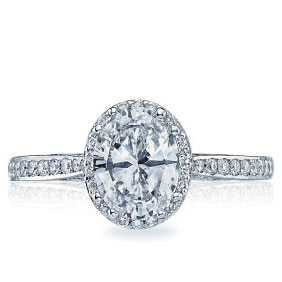 Tacori Dantella
The 2620ovmdp shown with a 2.1 Cttw Oval shaped Forevermark center stone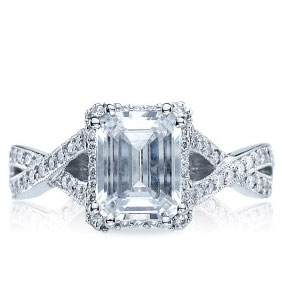 Tacori Dantella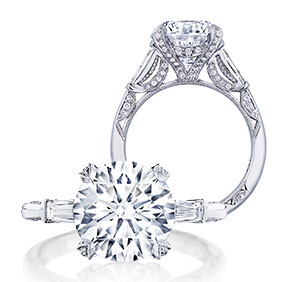 Tacori RoyalT
The ht2628rd10 shown in platinum with a 3.1 cttw GIA center stone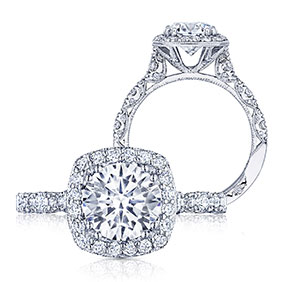 Tacori Petite Crescent
Shown with a 2.5 Cttw cushion cut Forevermark center stone

Great service !always friendly and very welcoming !I bring my ring for cleaning and checking once a year all free comes with your purchases!I just got a nice sanitizer that clips on to my purse which was a nice touch just for going in to pick up my wedding rings!Thank you I will be back !I have purchased 6 big ticket items from this business all good stuff keep up service


Oh Padis, how I adore thee.This is a long overdue review for the large showroom location in the back of the Gift Center. We've purchased several rings from here over the years and have been very pleased with the service. Anne is so sweet and treats you like a friend. When we were shopping for my engagement ring, she patiently walked around the showroom with me to show me all the styles I wanted to try on. She wasn't pushy at all and I really appreciated that. Since then, she's been consistently welcoming, cheerful, nice, and helpful whenever we go see her for appointments. I'm thrilled with my rings and can't recommend Padis enough for the wide selection and great service. I have recommended them to many friends and will continue to do so. Thank you to both Anne and Alexis for your lovely service and help over the years!Please understand before ordering rings that they all need to be custom ordered from the vendors and depending on the brand, it can take up to six weeks or more to be completed. I've contacted Anne in the past near the time the rings were supposed to be ready and she would call me back to let me know the status.


I am late to share this but I'm am extremely pleased with the service Padis jewelry, in particular Anne Start, provided me during an important time in my life. I first went to Padis about a year ago when I was in the incipient stages of proposing and looking for an engagement ring. I was completely overwhelmed. However, after looking at many stores and letting some time go by (about a year!) I had a very welcoming feeling in my heart about Anne. After some investigations of my own, I e-mailed Anne a few versions of rings I was considering. When I came back in with my friend for moral support, she had the ring I ended up deciding on ready for me to view.Anne let me look at other options but she knew she had the ring for me, however she never pressured me. When I finally came to the right decision, she worked hard to get me the right price and the right fit. She offered me creative ways to fit my fiance's ring size and worked extremely hard to get it just right.To Anne and Padis, I want to say thank you from the bottom of my heart. Our rings are beautiful and I so appreciate your open minds and tireless efforts to get this right for us. To anyone looking for an engagement or special purpose jewelry piece, Padis should be on your list of places to consider.

At Padis Jewelry, we will ensure your Tacori rings experience is more than you'd thought possible. We look forward to meeting you.